Forbes Review Rates Microsoft Dynamics 365 Business Central 5 Stars
At INFOC, we are proud to be a Microsoft Gold Partner and a leading provider of Dynamics 365 Business Central solutions. Our team of experts has extensive experience in implementing and customizing this platform to meet the unique needs of businesses in various industries.
We are thrilled to share that Microsoft Dynamics 365 Business Central has been rated a perfect 5-star rating in a recent review by Forbes Advisor. This rating is a testament to the power and effectiveness of this robust and comprehensive ERP solution.
Some benefits of using Microsoft Dynamics 365 Business Central
Simplified financial management: Business Central makes it easy to manage your finances with features such as automated bank reconciliations, cash flow forecasting, and financial reporting.
Increased productivity: Business Central allows you to streamline your workflows, automate repetitive tasks, and get a 360-degree view of your business in one place. This can help to boost your team's productivity and efficiency.
Improved inventory management: With Business Central, you can track inventory levels in real-time, automate replenishment, and optimize inventory levels to reduce costs and improve customer satisfaction.
Enhanced sales and service: Business Central includes sales and service modules that allow you to manage your sales process, track customer interactions, and provide better customer service.
Better decision making: Business Central provides real-time insights and dashboards that allow you to make informed decisions based on accurate data. This can help you to stay ahead of the competition and grow your business.
Scalability: Business Central is designed to grow with your business, allowing you to add users and functionality as you need it. This can help you to avoid the costs and complexity of switching to a new system as your business expands.
Integration with other Microsoft tools: Business Central integrates seamlessly with other Microsoft tools such as Power BI, Office 365, and PowerApps, allowing you to leverage the full power of the Microsoft ecosystem.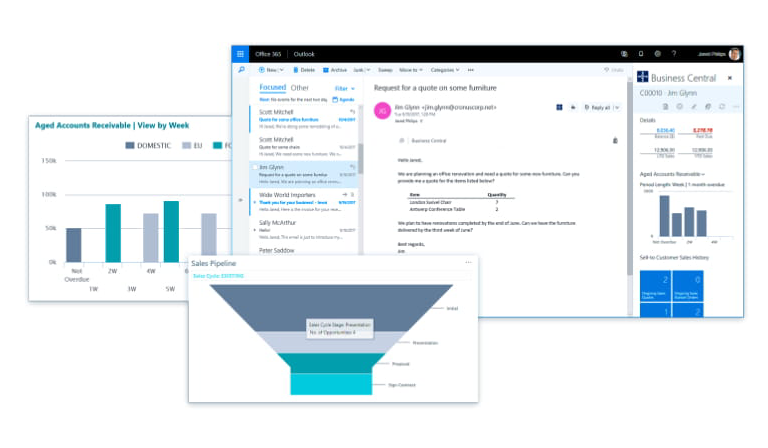 We are committed to delivering exceptional value to our clients
At INFOC, our team of experienced professionals can help you leverage the power of Microsoft Dynamics 365 Business Central to achieve your business objectives. Our services include implementation, customization, training, and ongoing support to ensure that you get the most out of this powerful solution.
We are proud to offer Microsoft Dynamics 365 Business Central as part of our comprehensive ERP solutions. With its 5-star rating and proven track record, it is the perfect solution for businesses looking to optimize their operations and increase efficiency. Contact us today to learn more about how we can help your business achieve its full potential.