Streamline Your Budget Process with Business Central | Effective Financial Management
The budget process is a critical aspect of managing any business, as it helps in planning sales, operational activities, resource allocation, and cost control. Business Central, a comprehensive business management solution, can significantly streamline this process, making it more efficient and accurate. In this blog post, we'll discuss the importance of budgeting from a management perspective and explore how Business Central can simplify the process by integrating sales, operational plans, resources, standard costs, and overheads
Why Budget with Business Central?
1. Real-time data and accurate forecasting
Business Central provides access to real-time data, allowing management to make informed decisions based on accurate, up-to-date information. This leads to better forecasting of sales, operational activities, and resources required to achieve organizational goals.
2. Enhanced collaboration and communication
Business Central's centralized platform fosters collaboration between departments and ensures that everyone is working from the same data. This enhances communication, reduces the risk of errors, and promotes a cohesive approach to budgeting.
3. Streamlined processes and reduced manual work
Automation of various budgeting tasks, such as data entry and calculations, minimizes manual work and reduces the risk of errors. This saves time, increases efficiency, and allows management to focus on strategic decision-making.
How Business Central Improves the Budget Process
Sales and operational planning
Business Central helps in creating accurate sales and operational plans by offering advanced forecasting tools and real-time data. It enables the management to analyze sales trends, identify growth opportunities, and align operational activities to meet sales targets.
Resource allocation and management
Business Central makes it easy to track and allocate resources effectively, including human resources, capital, and materials. Its powerful reporting tools provide insights into resource utilization and help management make data-driven decisions for optimal allocation.
Standard cost and overhead management
By integrating standard cost and overhead calculations within the platform, Business Central simplifies the process of setting budgets for various cost elements. This ensures that budgets are accurate, consistent, and based on up-to-date information.
Customizable budget templates and reporting
Business Central offers customizable budget templates that cater to the unique needs of each organization. Its flexible reporting capabilities enable management to generate insightful reports, track performance, and make informed decisions.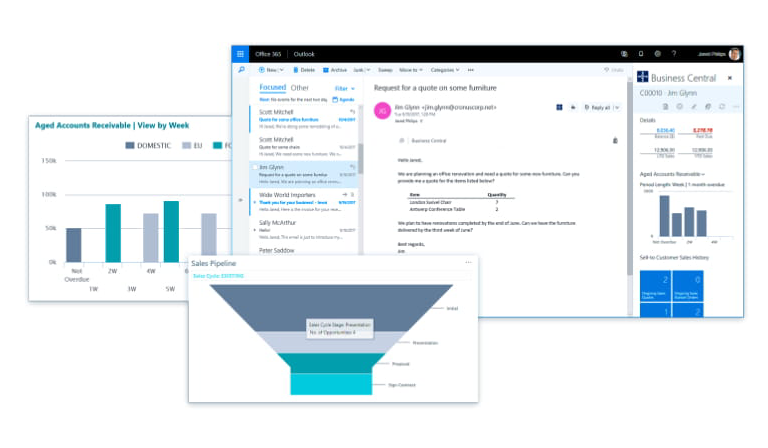 Discover how Business Central can revolutionize your budget process by integrating sales, operational plans, resources, and cost management for more efficient and accurate financial planning
Budgeting plays a crucial role in the overall management of a business, and with Business Central, the process becomes more efficient, accurate, and data-driven. By streamlining sales and operational planning, resource allocation, and cost management, Business Central enables organizations to make better decisions and achieve their financial goals. In an increasingly competitive business landscape, adopting a powerful tool like Business Central can provide a significant advantage and drive success.
Your Partner in Optimizing the Budget Process with Business Central
As organizations seek to improve their budgeting process, the Business Central platform emerges as a powerful solution for streamlining financial management. INFOC, with its expertise in implementing and managing Business Central, is your ideal partner in optimizing your budget process for better management. In this article, we will discuss how INFOC can help you harness the full potential of Business Central to enhance your financial planning and decision-making.
INFOC's team of experts specializes in implementing Business Central and customizing it to meet your organization's unique needs. Our professionals work closely with your management team to understand your business processes and configure the platform to address your specific requirements. This ensures that your Business Central deployment is tailored to your organization, facilitating a seamless transition and maximizing the benefits of the platform.